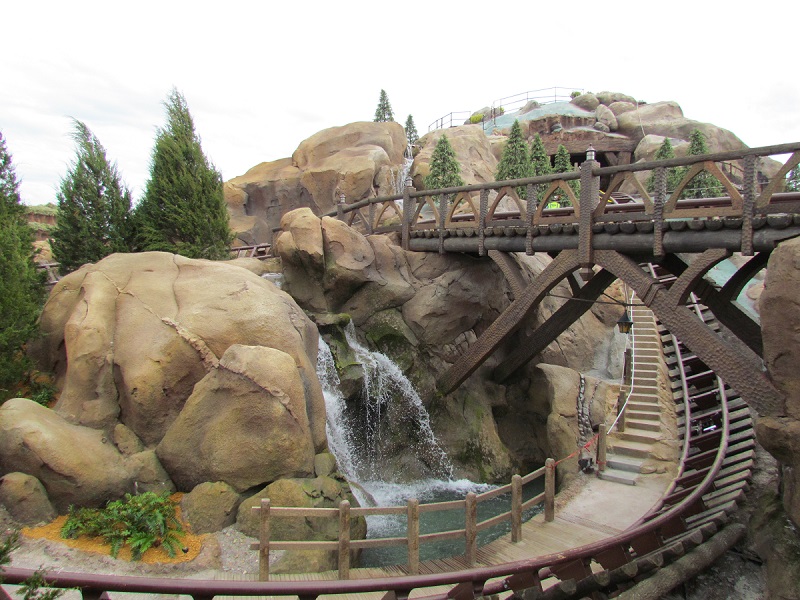 Photo courtesy of TheDisneyBlog.com
T
he new Seven Dwarfs Mine Train had its big media preview today at Walt Disney World's Magic Kingdom. The attraction has been several years in the making and is the final step of the Magic Kingdom's "New Fantasyland" expansion. With such a long development timeline, many fans have been questioning if the ride would be a fitting climax of the new expansion and a suitable replacement for the original Snow White dark ride.
The first full video point-of-views are making their way onto the internet today allowing everyone to get a better understanding of what the ride is and what the ride is not. Take a look at the video and I'll share some thoughts about it below.
The ride looks beautiful. There are incredible details inside and outside the mountain. The view from the top of the second lift hill, right before the biggest drop of the ride, is just gorgeous. For a family coaster, it looks to be a lot of fun. There are several different elements and moments that look to provide enough thrills for the parents but just enough restraint for young kids. The Disney Imagineers look to have delivered a beautiful replacement for the Snow White dark ride.
My biggest concern about the ride has nothing to do with the quality delivered, it has to do with the existence of the ride. I don't quite understand Disney's thinking in greenlighting this project. Snow White is an incredibly popular story, but is it still that popular with young kids? Is it only older parents who will be interested in seeing more of
Snow White and the Seven Dwarfs
brought to life? I know Snow White is an iconic princess, the dwarfs are still popular characters, and
Snow White and the Huntsman
was released not long ago, but did anyone really need or want this?
I don't have children so I honestly do not know if Snow White is still "magical" to them. Are parents actually showing their young children the old film? I don't know, but I would love to hear from any readers. Are young girls and boys interested in the story the ride is based on?
I think Disney has created a beautiful and fun ride. My only question is why focus on Snow White now? It is certainly an upgrade from the previous dark ride and I'm not against a quality attraction addition. I just don't understand the draw of creating a new ride for children around a very old property that doesn't seem to be something children are excited for.
Disney doesn't have to produce original properties every go around, but as the final part of "New Fantasyland" it would've been interesting to see them try something new. It's hard to argue with the quality on display and a quality attraction will always retain some kind of relevancy. That being said, there is something about re-using the Snow White story at this stage in time that zaps the ride of a different kind of relevancy, the wonderment of having a new fantasy brought to life. As is, this kinda feels like a quality movie reboot. Thankful to see a beloved property updated and enhanced with new technology, but also robbed of the opportunity for a new story.
What do you think of it? Let me know in the comments below.